Hahahha I wish. When I'm able to provide a full systems analysis of poverty(wishful positive thinking - yay for grad school!), you'll know it before it would ever appear on a blog post...

In Dr. Norm Becker's post, The Cost Of Inequality

,

he recognizes Joe Stiglitz's perspectives presented in his book "The Price of Inequality".
5 Important Myths - as presented by Stiglitz & interpreted by me:
1. America is a land of opportunity: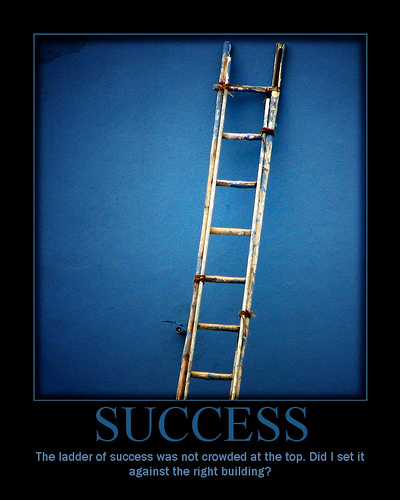 Upward mobility of people is heavily dependent on the income/wealth of their parents.This concept is best expressed at the merger of two metaphors.

This land of opportunity, has unequal spaces between the rungs on the ladder of success. The amount required to go from step 1 to 2 is significantly larger than 9 to 10.

This difference might be illustrated in Maslow's Hierarchy of Needs.
2. Trickle-down economics works.
3. The rich are the "job creators"
The rich take their money where the returns are highest - and right now that's in emerging markets - like China.

The engine of our economy is the middle class.

Forbes - The Real Job Creators: Consumers, this is sort of a hot topic, and really ties in to trickle-down economics, and it's important to understand the context of the flow of currency. It's really easy to get into partisan politics here, and end up with great information that might be biased(Like the unnecessarily controversial Nick Hanauer TED talk).
4. The cost of reducing inequality is too great - and would destroy our economy.
"It doesn't much matter how you get your greater equality, as long as you get there somehow". (Richard Wilkinson in comparing Sweden & Japan; big government & low regulation)
This is Richard Wilkinson's TED talk on "How Economic Inequality Harms Societies". I have a lot of thoughts on the myth of "reducing inequality will destroy our economy", and when it comes down to it, I feel that the cost of NOT reducing income inequality is too high.
5. Markets are self-regulating and efficient, governmental interference is a mistake.
2008. see NYTimes Series: The Reckoning
I'm reminded again of Jane Jacob's "Systems of Survival". When conflict arises between the two systems of Governance and Commerce, it typically appears as a two party system:

Liberals:

At their best: Propose controls and regulations on business that promote prosperity, ensuring true sustainability

At their worst: Attempt to unite governance with enterprise, producing marginal efficiency, and low innovation.

Conservatives:

At their best: True free market, human enterprise, creativity and innovation.

At their worst: Ignores the values of global health and habitat, primary interest only their own agenda, eventually leading to collapse.
After writing this post, I'm reflecting on the importance of this issue. As mentioned in my previous post, "Profit/Prosperity" play a crucial role in the movement towards sustainability. Everything requires some sort of exchange for services. With help from my Education team, we've really started to look at the systems in play within our current educational models, and (no surprise) money is a huge issue. "Access to resources" affects home life, educational institutions, policy writing, etc.
Relating back to the first myth, "America is a land of opportunity", is something that I want to see. I truly believe that as everyone is able to have their basic needs met, a tipping point of innovation & creation will propel us into the future. There is an obvious parallel at the top of Maslow's Hierarchy and the concept of sustainability.